Davido peeps at a future role in politics as he hopes for a reformed Nigeria
Perhaps, the Presidential and Parliamentary elections holding on February 16, 2019, would provide the type of leaders Nigerians are seeking — perhaps this might prevent Davido from seeking a future role in politics.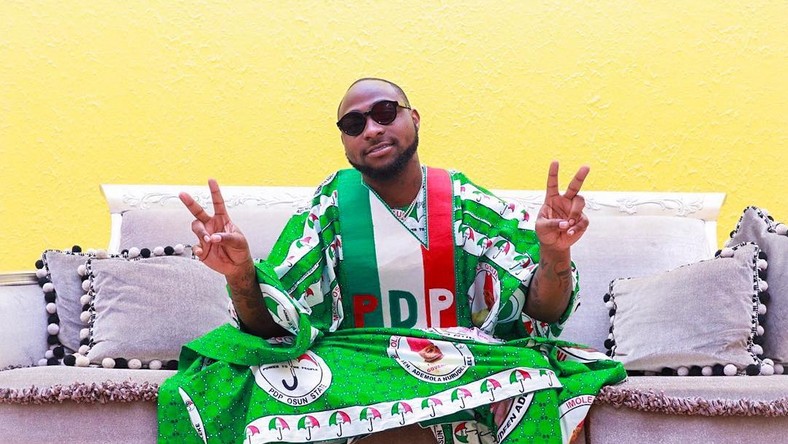 Until then, the idea of taking up a responsibility to reform Nigeria is still fresh on his mind. Already he has developed an initiative to encourage balloters in the imminent polls to stay guard of their votes after it must have been cast.
There is already a conversation about the problem in leadership in contemporary music. In January, rapper Falz got a good score from Pulse following the release of his 4th studio album "Moral Instruction" on Tuesday, January 15, 2019. The project calls for a change in attitude especially in governance to inspire a prosperous nation.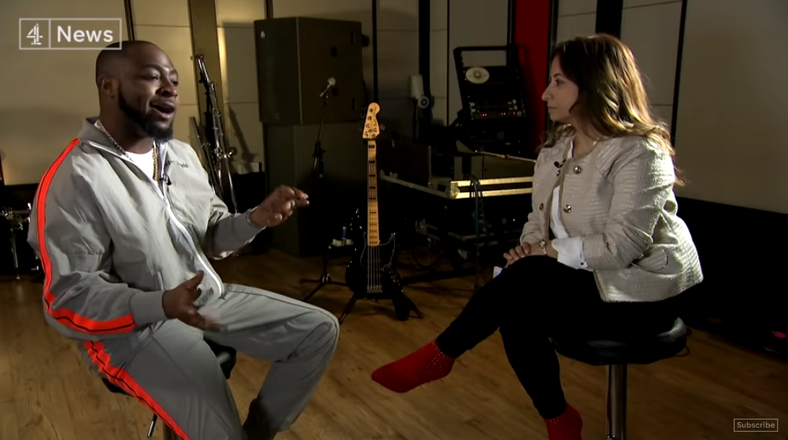 Davido seemed to be driven by this interest in his interview with UK's Channel 4 News. At the MOBO Awards in 2017, the pop star called the attention of the world to the problem of leadership in his country while receiving a prize for the Best African Act.
The Channel 4 interviewer brought his attention to his speech at the event appearing to have suggested an interest in politics based on how passionate he spoke on the stage. Providing a response Davido said that if he was in a position of power, "there are a lot of things I would have done differently" though he wasn't able to get into his strategy for execution.
He might not get involved in internal affairs like a traditional politicians, but he is interested enough to stay within close proximity to be able to make an impact.
"If I am not in it 100%, I will probably be around it," Davido tells a reporter who interviewed him. The pop star takes his social responsibility serious. It has inspired him to sensitize his countrymen on the best ways to avoid being cheated by scheming politicians.
"In Nigeria, we have elections coming up in February. And there is thing I am doing called defend your vote.
"You know you vote, you leave and then they mess everything up. After the vote you wait there.
"After you vote wait there let them count everything and I am not gonna stop until they change."
Getting groomed for state affairs
Change is exactly what the current president Muhammadu Buhari administration promised the Nigerian people before taking charge of their affairs in May 2015.
Opinions have been divided concerning Buhari's performance. The president and his party the All Progressives Congress (APC) have been accused of using unconventional tactics to lure voters.
For example, the TraderMoni scheme offering N10,000 to petty traders across the country as an interest-free loan. The Vice-President Professor Yemi Osinbajo has been useful in distributing these monies in major markets.
Davido prefers to dine with the APC's main opposition the People's Democratic Party (PDP) whose presidential candidate Atiku Abubakar has promised to provide Nigerians with sufficient employment.
The singer was on hand to entertain delegates at the PDP's National Convention held in Port Harcourt, Rivers State, on Saturday, October 6, 2019. It was at this event that Atiku emerged as presidential candidate.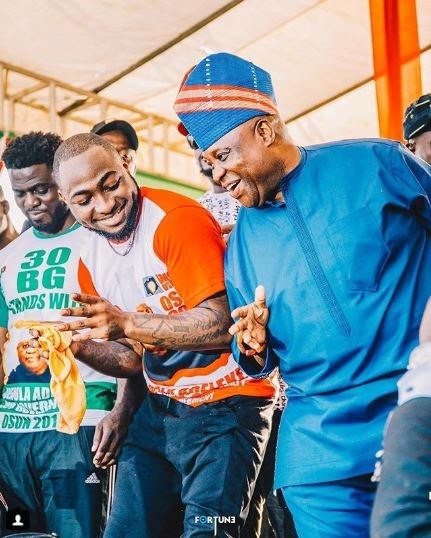 To support his uncle Senator Ademola Adeleke in his campaign to become the governor of Osun State at the election on September 27, 2018, he shared messages on social media campaigning for the PDP.
And there was the performance that impressed the crowd but the senator was no match for Alhaji Gboyega Oyetola of the APC, declared winner after a re-run.
Voice of a confused lover
I love you
You love me
My heart longs for you
Your heart longs for me
We have done shit together on your bed,but it seems it's not enough
Maybe b'cos it has never been on my bed.
I miss you
You miss me
Switching off your phone for a whole day is the worst of it…
Maybe 'the' you love me
You miss me have been a joke all this while…
But I've looked into your eye for a countless times, it's always seeming sincere…
Sometimes I think and I seem to hate you and I've found out I'm only deceiving myself…
Because I've found out that I truly love you and I cannot be without you…
Yeah, I love you and I miss you
Yet, if you fuck up doesn't mean I cannot be without you…
I'm saying this because I'm crazy about you…
Even if you're passing some difficult times, but you still have to calm down, so that I can…
Comfort you, my lover
My bestie…
The only person that I love…
Even if you call or you do not…
I will ever be ready to love well
As long as you've decided to love me well, after you're back from your trouble
My lover
My bestie
The only person I think of, at night and at day break
Summary: The lady who wrote this, is in a confused relationship, her lover claims to love her but he is somewhere at Iyana-iba flirting with other ladies… She is tired but she is still in love with him… God will not Shame us
Tope Alabi under critics as she condemns Yinka Alaseyori's song Oniduromi

Evangelist Tope Alabi,a popular gospel mucisian is under tackles for condemning song by Yinka Alaseyori in a viral video.
We noticed that Alaseyori, had in a song described God as her (spiritual) guarantor or advocate.
The song, 'Oniduro mi e seun', meaning 'thank You my Guarantor', became very common among the people of the South West especially in their churches.
But, Tope Alabi, making evil reference to Alaseyori during an event, said it will be a terrible mistake for anybody to tag God as his or her guarantor.
She said there was a day she wanted to sing the song, but the Holy Spirit told her to shut up.
To her, God is more than a guarantor or surety and it will be terrible to describe him so.
The singer spoke in Yoruba language that Gospel musicians need to digest songs very well before releasing them to the public, otherwise individuals will be singing something meaningless.
"Look at the enormous things God has done and somebody now came out to say Oniduromi e seun. God is not my own guarantor. God is more than a guarantor. I also loved that song, but the day I wanted to sing it, the Holy Spirit said 'shut up your mouth.' This is not like saying a song is not good. When you receive a song in the spirit, there are some deliberations you must have with the Holy Spirit before releasing it to the public, otherwise, if you release it the way it comes, individuals will just be singing rubbish. He has given us the brain to digest through it very well, then bring it back."
But, many have been attacking Tope Alabi online, saying she was only envious of Yinka.
See some comments below.
Adetunbi Saheed Ige: "Now I can understand. Tope Alabi thinks she can be the champion forever? This woman is giving her a run for her money in praising God and Aunty Tope just wants to bully her to silence. It is not possible. This woman just hit global limelight due to Tope Alabi's envy."
Babajide Oderinde: "Whatever Tope Alabi's real intention was with the unchristian-like and childish stunt she pulled, she has only succeeded in making this gifted woman more popular. Although I have been listening to her soul lifting songs for some time now, but I didn't know what she looks like until now. This is a case of God using your enemy's antics to lift you up. The kinda hatred and earthly competition that runs in Christendom."
Paul Olayemi: "You people don't really know how God has done it for the lady that sang the song to be more famous. God has used the so-called Tope Alabi to be her advertising channel without any payment. She believes she was bringing her down without knowing the criticism she did to her will turn to her uplifting. Tope Alabi, thanks for the free advert you did to promote the lady through your jealousy."
Princess Pauline: Abraham was great, Isaac was very great, but Jacob was exceedingly great. Alaseyori is your time to Yori. If you know, you know.
Anuoluwa Iyiola: Tope Alabi gets pride. Imagine her attending a christain programme, if you don't pay her up to N250k, she can never come, if not more. Business gospel artiste, I am not saying they should not give you money, but gospel is not for sale.
I want my life back – Bobrisky cries out after plastic surgery
Controversial crossdresser, Idris Okuneye, who is more popular as Bobrisky, has cried out over the side effects of the cosmetic surgery he allegedly underwent recently.
The 28-year-old claimed he would be undergoing the procedure to help him have a more feminine body.
However, Bobrisky has now said he "wants his life back", as he has been sleeping in one position for days.
According to him, "the pain is out of this world".
He wrote on Snapchat: "I'm sorry I have been off here lately!!! I'm in pain… 360 lipo is damn painful. I want my life back. My stomach is so hurt. My back is gone. I can't hold the (sic) no more.
"The worst of all is sleeping in one position all day…
"Thanks to my house girl (Rita) for always rubbing my back at night. I love you for supporting me with this journey. I thought I was dying. The pain is out of this world."