What you need to know about the plot to impeach GOVERNOR AMBODE.
These are the plot to impeach the lagos state government 'AMBODE'
On Monday, January 28, 2019, members of the Lagos State House of Assembly commenced impeachment proceedings against Governor Akinwunmi Ambode.
Here's all you need to know about Ambode's latest troubles:
1..Of the 34 lawmakers who spoke during what was a heated plenary session, 28 called for Ambode's impeachment, with six of them asking the governor to tender his resignation.
2..The lawmakers are furious with Ambode because according to them, he's been spending monies from the 2019 budget proposal even though said budget has not been formally presented before lawmakers by the governor; even though said budget is not yet law.
3..The lawmakers expressed their intention to impeach Ambode through a voice vote.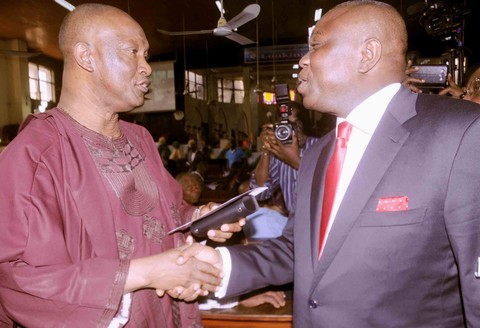 4..Ambode dispatched the 2019 budget to state lawmakers in December of 2018.
State lawmakers say he should have brought the budget to the floor of the house himself and presented same before them, instead of sending aides to submit the budget proposal on his behalf.
5..It took House Speaker, Mudashiru Obasa, to calm irate lawmakers who were apparently spoiling for a showdown.
6..Obasa pleaded with his colleagues to give Ambode some time to correct himself.
7..The Speaker said: "The attorney general, finance commissioner and commissioner for budget and economic planning that ought to have advised the governor did not do so.
"The most important thing is that we should let the people know that a budget that has yet to be approved was being spent, which was why we could not attend to the governor on the budget on Monday 21, January.
 "We must give them a fair hearing to come and explain what happened.
"The point has been made that there must be something before the House before you can commence expenditure. We want to call on the governor to come within a week to explain himself along with the governor.
"We can start gathering signatures for impeachment. We can wait till another time."
8…The Lagos governor has been given one more week to make an appearance before lawmakers to defend his budget estimates or be impeached.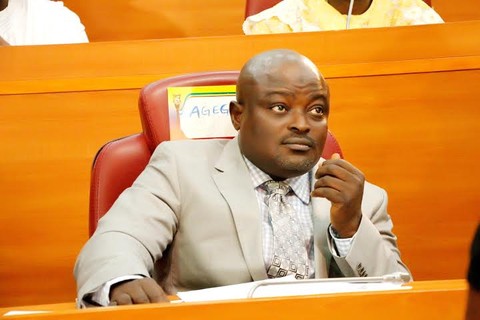 9..Ambode fell out with lawmakers after the House endorsed the APC governorship candidature of Mr. Babajide Olusola Sanwo-Olu who went on to beat Ambode during the primary election of October 2, 2018.
10..Lagos APC lawmakers, like other APC chieftains across Lagos, can't stand Ambode at the moment.
The governor also knows this and is snubbing the lawmakers because he can't stand them as well for 'betraying' him back in October 2018 when Sanwo-Olu emerged favorite and eventual governorship flagbearer, a move that perished Ambode's second term ambition and one which will see him exit Alausa Govt House on May 29.
11..There are insinuations in Lagos APC circles that Ambode has become the enemy within, one who is secretly sabotaging Sanwo-Olu's campaign and backing an opponent behind the scenes.
12..APC faithful have cited the violence that broke out at the Lagos APC governorship campaign flag-off of January 8, 2019–where Ambode appeared to continue with his speech even though mayhem was playing out right before him–as one evidence that he isn't really onboard Sanwo-Olu's election campaign and is working with the state security architecture to derail the campaign of a man who was once his opponent; and who he openly called a mentally unstable junkie at a world press conference.
Ambode also recently threw shades at a former governor of a Southwest state at a public function. This governor worked in cahoots with godfather Asiwaju Bola Tinubu to derail Ambode's second term plans.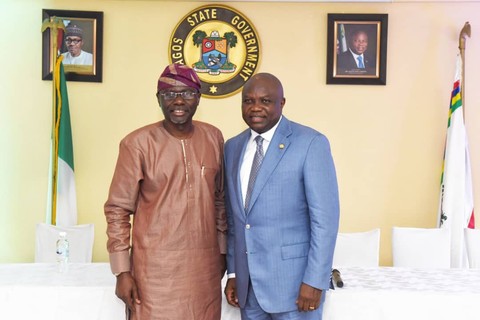 13…. We have been told that Ambode's planned impeachment is more political than fiscal and that the budget excuse is merely a smokescreen.
14…  We have not been able to independently verify these allegations, as calls placed to the mobiles of Ambode's media aides are never answered nor returned these days.
Bandits attack police formation, kill 13 officers in Zamfara
Armed men suspected to be bandits have attacked the Kurar Mota community in Bungudu Local Government Area of Zamfara State, killing at least 13 police officers
We gathered that the incident occured on Sunday when the assailants invaded a police formation and gunned down officers on duty.
A residents who identified himself as Kabir Dansada, told Daily Trust that the armed men had earlier attempted to invade Magami, a community located 50km south of Gusau, the state capital, but were repelled by soldiers.
"They withdrew after they were overpowered by the soldiers there. They then rode to a community along Magami – Dankurmi – Dangulbi road and killed one person and torched four shops."
"Thereafter, they moved to Kurar Mota community and attacked the police formation near the township clinic. The criminals then dashed into the forest"
"The slain officers and the injured ones were conveyed to Gusau in a convoy of police vehicles this afternoon. I saw several police vehicles move towards the area," he said.
When contacted by our correspondent, the state's Police Public Relations Officer, PPRO, SP Muhammad Shehu said he would inquire and revert.
Clean smelly Lagos gutters, stop making noise – Deji Adeyanju rebukes Joe Igbokwe
Deji Adeyanju, an Abuja-based human rights activist, has berated Joe Igbokwe, a chieftain of the All Progressives Congress, APC, over his recent comments on social media.
Adeyanju said Igbokwe who should be cleaning smelly gutters in Lagos State is making noise on social media.
Igbokwe, who is the Special Adviser on Drainage and Water Resources to the Lagos State Governor, Babajide Sanwo-Olu has been very outspoken on social media lately.
The APC chieftain celebrated the rearrest of Nnamdi Kanu, leader of the Indigenous People of Biafra, IPOB.
He had explained that Kanu once asked IPOB members to kill him and his family members.
The governor's aide also rebuked Kanu's style of agitation, stressing that the IPOB leader never witnessed the Biafra civil.
Igbokwe further stressed that the Nigerian government has enough evidence to convict the embattled IPOB leader.
However, Adeyanju, in a tweet wrote: "Joe Igbokwe who should be busy cleaning smelly gutters in Lagos is still on Facebook making noise."
Meanwhile, we observed that Lagos State has witnessed serious flooding due to rain fall and bad drainage management.
Cultism: Four arrested during cult supremacy battle in Ogun
Four persons, who the police said are members of dreaded cult groups, were on Saturday arrested during a supremacy battle in Ogun State.
Police said the supremacy battle led to a gun duel between Aye and Eiye confraternities in the Atan-Ota area of Ogun.
The suspects, according to the Ogun Police Public Relations Officer, Abimbola Oyeyemi, were identified as Olusegun Owoola (26), Gbenga Akinkade (34), Jinadu Waliu (30) and Sanni Hammed (27)
Oyeyemi informed us that they were arrested following a distress call received by the DPO of Atan Ota division, CSP Abolade Oladigbolu at about 4am on Saturday.
The two groups were said to have gone on a rampage at the Hotel road area of Atan, shooting sporadically.
The DPO had mobilized his men to the scene "where they met the two groups engaging themselves in a serious gun battle."
According to Oyeyemi, "the police engaged the hoodlums and subsequently subdued them", leading to the arrest of four of them.
Items recovered from them are a locally-made pistol, three live cartridges, two knives, an iron rod and assorted criminal charms.
Meanwhile, the Commissioner of Police, Edward Ajogun has directed that the case be transferred to the anti-cultism section of the State CIID for investigation.